SERVPRO On Causes of Commercial Water Damage + How to Handle Them in Scottsdale
9/30/2020 (Permalink)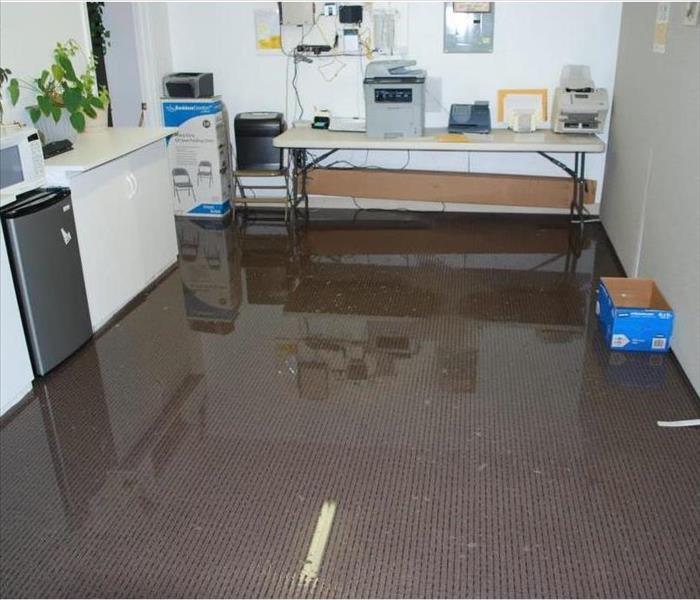 SERVPRO of Paradise Valley will get your flooded Scottsdale commercial space back to pre-existing condition ASAP, just "Like it never even happened."
Here at SERVPRO of Paradise Valley, we understand that dealing with water damage is not fun especially when it affects your business. Not only are you losing money each second your business is unable to be fully opened, but you could also be putting the health and safety of your employees at risk. The moment you spot signs of commercial water damage, it's important to take action immediately.
Commercial water damage restoration is often more complex than residential water damage restoration and usually requires an intensive approach. The following variables contribute to the scope of the restoration process - The size and structure of commercial buildings, the extent of damage, the varying use of space, and the number of occupants. Aside from these, time is of the essence because business has to continue as soon as possible and we fully understand that at SERVPRO of Paradise Valley.
Any amount of water damage that stops work or decreases customer foot traffic indicates a loss in profit. We know that no business professional wants water damage to occur in the first place so please see below as we list the most common causes of water damage in commercial properties and how to deal with them.
Damaged Windows -
Check windows often and identify any leaks/cracks where the window might not be sealed properly. There could be excess moisture causing condensation if windows are not properly ventilated or unknown small cracks and/or leaks present. Checking windows can aide in detecting these cracks and/or leaks. Resealing windows regularly is important so you can seal the leaks you can't visibly see and because caulk can break down overtime.
Broken or Damaged Pipes -
This is especially important if you own a publicly accessible structure, such as a hotel, assisted living facility, apartment complex, etc. due to the large amount of water being used from sinks, toilets, showers. It's inevitable that the pipes will be clogged at some point and it's very hard to know when a pipe is clogged or damaged since there is not an effective way to check for this. However, you can look for these signs that could indicate potential water damage - Musty smells, bulging drywall, water stains on walls or floors, or buckled flooring/cracked & loose tiles.
Building Foundation/Roof Leaks -
The repercussions of a leaky roof consist but are not limited to ceiling damage, mold or mildew issues, fire hazards from shortened wires, and compromised structural integrity. Moreover, if gutters are not cleaned regularly, they can get clogged and cause water to leak into the property through the roof or foundation. One of the most common signs of leaks in building foundations are puddles nearby or framing that has become wet. Poor drainage systems can also lead to water damage.
HVAC Failures -
Heating, ventilation, and air conditioning (HVAC) is the technology of indoor environmental comfort. As the system ages, leaks or cracks can occur and will ultimately cause water damage to your structure. Additionally, excess water from condensation builds up over time and will lead to damage. To avoid this issue, the HVAC system needs to be cleaned regularly and the excess water from the condensation reservoirs has to be removed to prevent water damage.
Sprinkler System Leaks -
Other causes of water damage in commercial buildings are leaks in sprinkler systems. Signs of sprinkler leaks include wet surfaces like drywall and carpets, presence of mold and mildew, and standing water. To avoid these issues, simply regularly inspect your sprinkler systems for leaks and moisture.
Sewer Clogs -
Sewer water classifies as category 3 meaning the water contains bacteria and other viral pathogens that can cause illnesses and infections. It's important to call a water damage restoration professional immediately if you see signs of sewage damage, such as gurgling sounds or water backing up out of the drain or toilet.
Thankfully, water damage can be prevented by creating a flood monitoring system, getting an insurance plan that covers flood damage, and conducting regular property inspection and facility maintenance.
The causes for water damage and preventable tips listed above can save you a lot of money in the long run! Commercial water damage can be very expensive so take the necessary precautions and save yourself from the ramifications water damage can cause to your business.

In the unfortunate event that water damage does occur at your business, SERVPRO of Paradise Valley is here to help and make it "Like it never even happened," 24/7 and can be reached at (602) 341-6737. We're always here to help!
For more information, please visit the following links:
https://icchelps.com/2020/04/29/commercial-water-damage-st-paul-3/
https://aerindustries.com/blog/2019/11/18/commercial-water-damage-causes/